Grease Nipples
Maintaining permanent motion!
They are small and inconspicuous, but responsible for keeping machines and all kinds of equipment in motion - whether in a harvester in Russia, a pipeline in Alaska, or a brewery in Australia. There is a UMETA Grease Nipple for every application purpose in most sizes, types and composition. With a range of more than 1,500 different types of nipples with about 70 different thread forms, we offer the largest product line worldwide.
Depending on the application and the installation sites, we can manufacture grease nipple according to international standards. Other than a standard version made of steel, zinc-plated and passivated, we offer many other types, made of brass or stainless steel. You will always find a solution in our range of products - even for the most challenging application. Rely on us - since we are manufacturer and not a dealer - for about 80 years!
UMETA GREASE NIPPLES - ADVANTAGES AT A GLANCE
1,500 available types

hydraulic-type-, ball-type-, flush-type-, bayonet-, and button-head nipples
standard versions made of zinc-plated steel,

stainless steel, or brass

case-hardened according to DIN
international product standards

(e. g. DIN, ISO, SAE, BS, JIS)

individual, custom-designed solutions
individual packaging according to customers requirements
FUNCTION OF A GREASE NIPPLE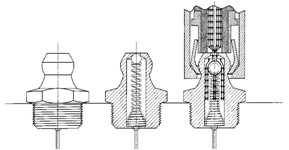 TASKS OF A GREASE NIPPLE
protection of the lubrication point against dirt and humidity – no sealing against internal pressure
standardized connection to the grease gun
essential for maintenance and repairs
RANGE OF APPLICATIONS
bearings
hinges for machines, vehicles, industry
cardan shafts
drive shafts
linear guides
hydraulic cylinders
drives
chains
axels
GREASE NIPPLES ARE MANUFACTURED OF
steel: 1.0718 (11SMnPb30+C) SAE 12L13
stainless steel: 1.4305 ~ ASTM303 (SST303);
1.4401, 1.4404 ~ ASTM316, 316L (SST316L)
brass: CuZn39 Pb3 (CW614N)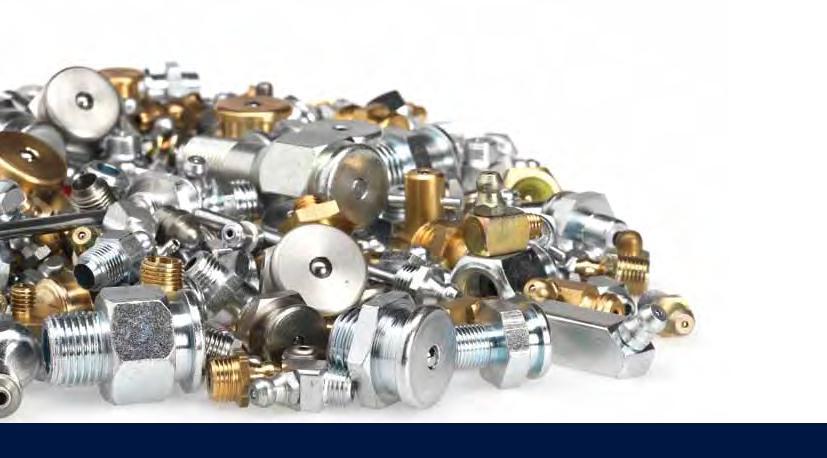 APPLICATION AREA
UMETA hydraulic-type nipples are suitable for all standard lubrication points, which have to be frequently lubricated in a reliably way. Due to their multi-purpose field of application, they are the most commonly used types of grease nipples.
VERSIONS
In general, our hydraulic-type grease nipples according to DIN are made of steel, case-hardened, zinc-plated and passivated, and they are featured with a tapered thread. The head diameter is 6.5 (-0.2) mm / 0.256" (- 0.008"). For safety reasons and in order to avoid abrasion wear, the standard demands 550 HV as a minimum for a surface hardness. Therefore, we operate this decisive process in our own curing oven. We offer various standard types also in brass or stainless steel 1.4305 ~ ASTM 303 and 1.4404 ~ ASTM 316L (V2A/V4A). Of course, our hydraulictype nipples are also available in different angle versions, with a self-forming thread, or as drive-in type.
SPECIAL VERSIONS
Upon request, UMETA manufactures hydraulic-type nipples in other versions, with respect to the following:
dimension
material
thread size
thread form (e. g. with cylindrical thread)
opening pressure
surface colour (e. g. yellow passivated)
further surface treatment
unhardened
etc.
Head space
A=
50mm(1.97")
D=
25mm(0.98"-63/64")
B=
16.5mm(0.65")
E=
75mm(3")
C=
19mm(0.75"-3/4")
F=
55mm(2.16"-2.125")
MOUNTING INSTRUCTIONS
In order to allow for a proper lubrication with all common grease guns, the head space, which is necessary for installation, should be considered (please see table with dimensions).
OPERATING INSTRUCTIONS
As suitable lubricating nozzle, we recommend our hydraulic couplers.