UMETA HYDRAULIC-TYPE GREASE NIPPLES - DRIVE-IN VERSION
APPLICATION AREA
By using UMETA grease nipples with drive-inshank, you effectively save the thread-cutting process in the borehole.
VERSIONS
Drive-in nipples as standard version are with plainshank, made of steel, case-hardened, zinc-plated and passivated. Upon request, UMETA manufactures drive-in grease nipples in other versions, with respect to the following:
dimension
material
shank length
shank type (e.g. serrated ridge)
shank diameter
surface colour
further surface treatment
MOUNTING INSTRUCTIONS
For straight-type grease nipples, we recommend using the drive-in tool, with which the nipple can be driven-in effectively and with care. The exact size of the core hole depends on the material and must be determined by mounting tests. The standard gauge for the installation bore diameter corresponds to the nominal width of the shank Ø.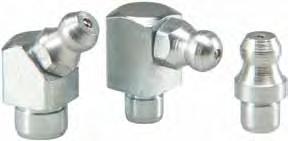 OPERATING INSTRUCTIONS
Since this type of grease nipple is only driven in, it may get loose by
strong vibrations
high back-pressure when greasing with auto-matic guns
pulling off the hydraulic coupler
Drive-in type hydraulic grease nipples should only be lubricated by a hydraulic nozzle.
RECOMMENDATION
Drive-in type grease nipples are only suitable for low pressures. Please check whether they can be replaced by self-forming nipples for a better fit.