High-pressure hydraulic-type nipple with pin valve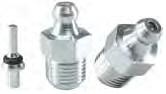 straight version A/180°



made of steel, zinc-plated and passivated
with special pin valve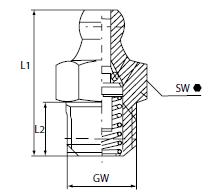 GW = thread
L1 = overall length
L2 = shank length
SW = HEX size
(all measures in mm, thread metric or in inches)
Due to the special pin valve, the lubrication point will be sealed hermetically after the greasing operation. As a result, internal impulse-like pressures up to 400 bar (5,800 PSI) can be attained, depending on the respective application.
APPLICATION AREA
Heavy Industry, Heavy Vehicle Industry.
OPERATING INSTRUCTIONS
ATTENTION! During dismantling, utmost caution is required because of the possible pressure load. Dismantling should be done by experienced personnel only!
GW M 10 x 1.0

Ref.- No.:

L1

L2

SW

Steel

Brass

V2A (inox)

V4A (inox)

21

7.5

11mm HEX




5800049




21

9

11mm HEX




5800052

5800050
GW R 1/8, 1/8 - 28 BSP

Ref.- No.:

L1

L2

SW

Steel

Brass

V2A (inox)

V4A (inox)

21

7.5

11mm HEX




5800054

5800051

21

9

11mm HEX




5800053



GW G 1/8, 1/8 - 28 BSPP

Ref.- No.:

L1

L2

SW

Steel

Brass

V2A (inox)

V4A (inox)

21

7

13mm HEX




5800056



GW G 1/4, 1/4 - 19 BSPP

Ref.- No.:

L1

L2

SW

Steel

Brass

V2A (inox)

V4A (inox)

21

7

13mm HEX







5800057
GW 1/8" - 27 NPT/PTF

Ref.- No.:

L1

L2

SW

Steel

Brass

V2A (inox)

V4A (inox)

21

7.5

11mm HEX




5800048




21

9

11mm HEX







5800040